Talon the Tavern Keeper
[
]
Talon is the merchant located in the tent in the second zone of the game that sells and buys gears, weapons, potions and pets.
These are all the items you can buy from Talon: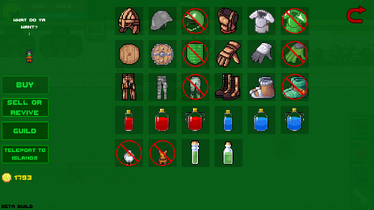 You can also create a guild by clicking on the "GUILD" button and paying 100.000 coins.
The last thing you can do is to revive pets.To do that u need to press on the "SELL OR REVIVE" button, select the pet you want to revive, and click on "REVIVE". Domestic Pets will need 1000 coins to be revived, Wild Pets will need 10000 coins and mountables like the horse will need 100000 coins.
After a player is above level 75 Talon can offer to teleport you to Cleo for 1000 coins.
Calix the Weapon Dealer
[
]
Calix is the merchant located right by Talon, its difference from the other merchants is that it also sells weapons for the other 3 classes of the game: Projectile, Grenadier and Medic.
These are all the items you can buy from Calix:
Cleo the Merchant of the Islands
[
]
Cleo is the merchant located in the pirates zone, north of the second island, it only sells general items like potions, bows and mortars ammo, pets and creates guilds.
These are all the items you can buy from Cleo: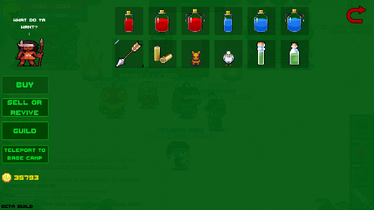 You can also teleport from Cleo back to the base camp, to do that all you need to do is press on the "TELEPORT TO BASE CAMP" button and pay 1000 coins, much faster than walking by foot.
Baron Leo the Banker ( Depository )
[
]
Baron Leo is the one who guards the depository. This is where you could put your coins for safekeeping. You don't have to pay a fee every time you store your extra coins. You can use his service for free, anytime!                                      
Derk the Vault Keeper
[
]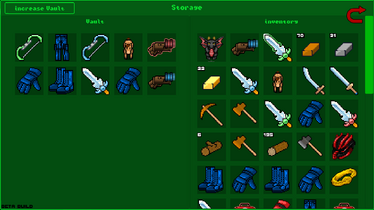 Derk is the one who guards your items while you store it in the vault. 
You can store valuable items in here.
You can also increase the size of your vault by paying 250 emeralds.
Just like the Depository, it is free of charge and you can use it anytime!