Many people think that guilds are useless and prefer to remain as a "lonely wolf", but that's not true at all! In fact, having a guild gives you the advantage of having guildmates that can help you farm mobs (thanks to the "share exp" option), kill poweful bosses (such as the King Dragon) and kill other players in PVP.
Creating a guild is really simple, in fact it takes only 100.000 coins to create one. To create a guild you need to go to Talon or Cleo, press on the "GUILD" button, choose a name that you like, and that's basically it, your new guild is born! 
After you created the guild you will need other players to join it, to do that u will need to find another guildless player and press on the "GUILD INVITE" button and wait for a response!
As a leader (General) you will be able to kick other players aswell as promote them. In fact, a normal member of your guild won't be able to invite other players to your guild, to do that they will need a promotion (Vice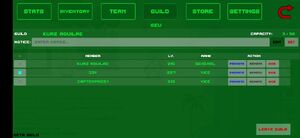 ). The last thing you can do is add a description to the guild where you can put just a simple phrase or maybe a link to your guild discord server or whatever you want; to do that you need to press on the "EDIT" button, write your description and in the end press on the "SET" button.
Have fun with your guildmates!
Community content is available under
CC-BY-SA
unless otherwise noted.